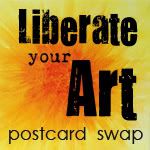 I came across this challenge and had to share it with my friends.
http://www.kateyeview.com/2011/04/join-me-in-liberate-your-art-postcard.html
Here's an overview of the Liberate Your Art Postcard Swap:
WHO: Artists in any medium. Photography, painting, poetry, typography, jewelry, sculpture, knitting, cooking, illustration - you name it. If you can have an image of your art printed on a postcard, you are in! If you want to share a blog or website address, I'll have a list of participants posted on the Liberate Your Art page so you can find each other.
WHAT: You will send 5 printed postcards of your original art to me, along with your address and return postage. I will then swap them around and you'll receive 5 postcards from different artists mailed back to you over a period of a few weeks. (The email you receive once you sign up will have all of the details on what to do.)
WHERE: You don't have to go anywhere, and participants from all over the world are welcome! You will send your postcards to me in the US (I'll be moved back by then) and I'll mail them back out from there. Details for international participants will be included in the email.
WHEN: The postcards will need to arrive at my US address between July 5 and July 15.
WHY: To liberate your art into the world, where it can do the most good!
I've set a personal, crazy-big goal for this swap - I would love to have 200 participants from all over the world. Can you imagine, 1000 postcards of wonderful art, winging their way around the world? I can! But I need your help. Please share about this swap on your blog, facebook page, tweet it and get your friends to sign up too. If we reach this goal, I am going to do something crazy too - send a personal post card to each and every person who participates. I get excited (and a little scared) just thinking about it!